Here are some tips to make the best first impression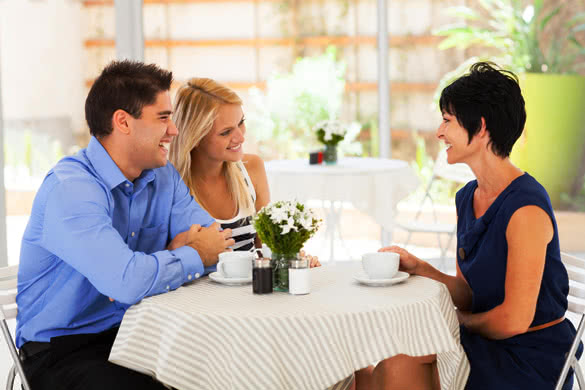 It is true that first impressions last, especially when you have to meet your boyfriend's mom for the first time. You will surely have a sleepless night before the day of the big reveal, but you don't have to worry. All you need are these simple tips to impress your "future" mom-in-law, and we're sure she'll love you as much as you love your BF.
Tip #1: False impressions are a BIG no, no.
Being honest is the key. Just because you want to impress her doesn't mean you have to resort to making up stories.  Remember lying on the first meeting will cost you a lot in the future.
Tip #2: Do not say bad things about her son.
You chose to love him – the bad along with the good – so commit to that. Telling his mom about your fight last night or his bad habits on your first meeting is an underhanded swipe at how she raised her children.  It will do no good to complain about her son; she may even try pushing you out of the relationship.
Tip #3: Private details should be kept between you and your man.
We know you're nervous but that does not mean you have to blurt out everything, including your latest sex-capade in Balesin. Always keep in mind that intimate things should be kept between the couple, not with anyone else. If she's pushing to know if you guys are trying to have a baby or planning a wedding soon, gently reply that you have yet to discuss with your partner and steer the conversation to a more neutral topic.
Tip #4: Hold your tongue
Don't start an argument. If you don't agree with her on a certain matter, you don't have to let your hostile tongue do the talking. What you can do is: (1) respect her opinions, (2) ignore her statements in the nicest way possible, or (3) tell her politely that you have a different view about the topic.
Tip #5: Be the best version of yourself
Dress up for the occasion. Don't go overboard, however. Wear something that makes you feel beautiful and confident, and you're sure to carry that good vibe into the first meeting. Wear a simple, yet elegant dress and keep your makeup to a minimum, just enough to enhance your natural beauty.  What is important is that you show yourself as an authentic person, and someone who dearly loves her son – nd that will surely make and keep a good impression.