Feel free to express yourself with this fun and colourful makeup technique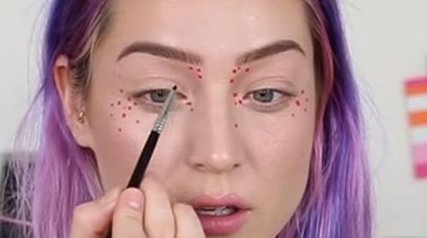 Gone are the days when people would hide their freckles with concealer and foundation. This new trend that's fast taking over the runways – rainbow freckles – is helping us to embrace more color and be more playful with makeup.
To create these colorful "fake freckles", all you'll need is a fine-tipped brush or even just a cotton bud. Lightly dab liquid lipstick – any color you want- across your cheeks, eyes and temples. Use as many colors as you want to create your whimsical expressions. And don't worry, there's no wrong way to apply this. Have fun, be creative and just play with makeup.
Here are some looks we love and we know will help inspire your new look.
Paired with envy-worthy colored hair, this freckled expression is simply whimsical.
There is no limit to creativity when playing with makeup. This look is stunning!
Go even bolder with a vibrant hue on your lids.
Go for a more natural, ethereal look with a little shimmer. This is a great way to draw more attention to your eyes.